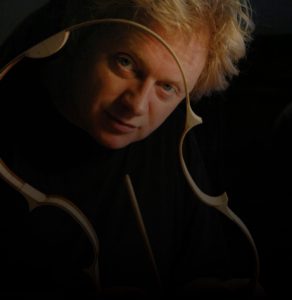 Pascal Gilis was born in a family of musicians, he was soon interested by the demanding precision and skills of being a violin maker. Thus, he decided to go to Cremona international school of violin making where generations of Italien Maestros have transmitted their tradition and knowledge.
Once these technical skills assimilated, he opened up to the joy of playing with and creating the sound, its texture, dynamics and subtleties.
Back from Italy and a few other European violin makers, Pascal Gilis settles in Brussels in 1985. He gradually builds and acquires the many facets that make the craftsmanship of a violin maker. His workshops are now able to deal with standard restorations as  well as complex ones on higher valued instruments, sound adjustments for professional musicians on violins, violas, cellos and double-basses.
He has a wide choice of instruments from student grade to professional available at his workshop in Brussels. A few years ago, he started a production of manufactured instruments inspired by French traditions of violin making like Mirecourt and keeps on making his own high quality instruments as a violin maker.
He pursues the never ending quest of forging great sound with various colors and textures by developing his making techniques, keeping the aesthetics simple and close to historical masters, always adapting to the thoughtfully selected wood.
Based on various knowledge like acoustics, physics, structure of the archings, the idea is to balance all the subtle forces applied on an instrument as to let the vibrations of mater express all feelings music can convey.